Building a sustainable business model, which is socially and environmentally responsible and gears towards valuable growth, is currently a top priority for enterprises.
To acknowledge leadership in innovative achievements, raise awareness of sustainability issues, and provide a platform for companies to share their experiences in implementing responsible business model, the European Union Chamber of Commerce in China ("the European Chamber") held the Fourth Sustainable Business Awards Ceremony & European Chamber's 20-Year Anniversary in Shanghai on September 17, 2020. National Business Daily served as a media partner of the event.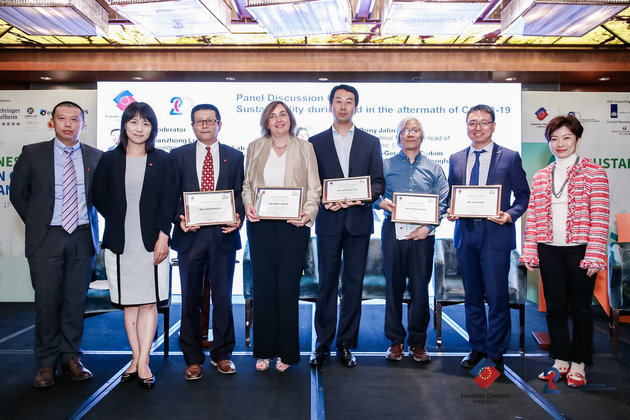 Photo provided by the organizer
Winners of the Sustainable Business Awards in five categories, which are related to poverty alleviation and environmental protection, were announced at the event.
Danone was given the "Advocate in Combating Poverty" award. Novo Nordisk, Philips, Signify, University of Nottingham Ningbo China (UNNC) and Volvo Group China received the "COVID-19 Crisis Response Award". SAP won the "Navigating Diversity and Inclusion" award, while Bosch, Stora Enso and Waste2Wear were granted the "Outstanding Environmental and Climate Performance" award. The "Social Innovation Pioneer" award went to Covestro.
Experts and enterprise representatives were also brought together at the event to discuss the ESG (environmental, social and governance) trends and the sustainable development during and after the COVID-19 pandemic.
Jianzhong Lyu, Founder of CSR Thoughts Lab and Board Member of Global Reporting Initiative, said that the pandemic poses challenges to operational resilience of enterprises under special circumstances and impels them to incorporate crisis management into daily business operations.
The pandemic could be a potential catalyst for ESG investing, or strategies that consider a company's ESG performance alongside traditional financial metrics, as the crisis has renewed the focus on climate change and worked as a wake-up call for decision makers to prioritize a more sustainable approach to investment, a report by J.P. Morgan shows.
Financial players such as stock exchanges and capital market regulators could play a role in helping businesses incorporate ESG into their operations, Dr Peiyuan Guo, General Manager and Founder of consulting firm SynTao, remarked at the event.
For example, the Stock Exchange of Hong Kong amended the ESG Reporting Guide last year, requiring the board of directors of listed companies in Hong Kong to promote a culture from the top-down to ensure that ESG considerations are part of the business decision-making process, according to Guo.
In the capital market, a large amount of money is flowing to sustainable funds at present, which is in stark contrast to the situation in the period from 2015 to 2017, when little or no new money was invested in ESG funds. Funds that invest according to ESG principles attracted net inflows of 71.1 billion U.S. dollars globally between April and June this year, up 72 percent year over year, pushing assets under management in the ESG products to a new high of over 1 trillion U.S. dollars, according to consulting firm ETFGI.
Email: gaohan@nbd.com.cn
Editor: Gao Han