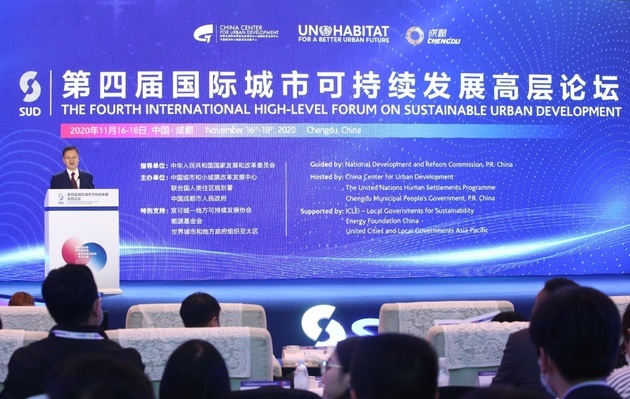 Photo provided to NBD
Nov. 17 (NBD)--Officials from China's state-level government bodies and leaders of cities, international organizations and companies on Monday gathered in southwest China's Chengdu to share their insights on the new models of and approaches to sustainable urban development.
The Fourth International High-level Forum on Sustainable Urban Development (the Forum), co-hosted by UN-HABITAT, the municipal government of Chengdu, and China Center for Urban Development, kicked off on November 16 and will last through November 18.
This year, the Forum centers on the theme of Promoting High-quality Sustainable Development for Open and Sharing Cities of the Future. Yang Weimin, member of the Standing Committee and Deputy Director-General of the 13th Chinese People's Political Consultative Conference, and Edward Glaeser, an urban economist at Harvard University and author of Triumph of the City, delivered keynote speeches on Monday.
Yang Weimin pointed out that according to the 14th Five-Year Plan, the optimization of the development and protection of territorial space is a crucial target. To achieve that, it was proposed that China should gradually form three differentiated zones, which are for urbanization, agriculture, and ecological purposes, respectively.
Edward Glaeser believes in cities. For him, there is no path to prosperity without urbanization. At the Forum, Glaeser discussed the challenges currently facing cities. The dense population in cities creates a hotbed for the spreading of the COVID-19 pandemic, while new telecommunication technologies like 5G promise a more dispersed world where human connection is less dependent on physical proximity.
Will these adversarial factors push people and industries away from cities? Glaeser doesn't think so. Citing recent researches on European countries and the U.S., he pointed out the increase of remote working postings only lasted for around a month, and people started to return to their offices since mid-April.
After all, human beings are social animals, Glaeser said. Using Silicon Valley as an example, he insisted that however technology advances, people need intimate contact, and productivity improvement and innovation are more likely to take place in cities where people, industries and ideas gather.
The city of Chengdu has been promoting the idea of building itself into a garden city as one approach to sustainable urban development. At the Forum, deputy mayor Xie Ruiwu shared with guests the latest concepts and practical experience of making Chengdu an exemplar garden city.
The efforts include the development of new economy industries like IT and biopharmaceutical, the human-based urbanization that caters to the natural environment of different districts, and the promotion of low-carbon transportation and urban greening.
The Forum is a practical cooperation project included in the cooperation frameworks on the Belt and Road Initiative China signed with UN-HABITAT. Previously, Chengdu had successfully held three consecutive sessions of the Forum from 2017 to 2019.
Email: tanyuhan@nbd.com.cn
Editor: Tan Yuhan